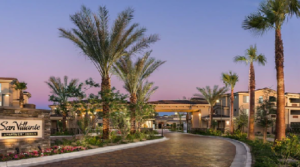 PHOENIX, Arizona — Valley-based multifamily investment firm Mark-Taylor is proud to announce the company's newest luxury community in the heart of Mesa, San Villante. The multifamily community is newly constructed and comprises 348 units. The community will feature modern design and interiors with luxury amenities. Phase 1 is now complete, and residents are set to begin moving in in early March.
"We look forward to welcoming our first residents to San Villante in Mesa. They will have the opportunity to experience a newly-constructed community while living in one of the Valley's most ideal locations near top employment, award-winning Gilbert and Mesa schools shopping, entertainment and dining," said president of Mark-Taylor Residential, John Carlson. "The innovative design and thoughtful, architectural elements are just a few of the ways we're working to create a premium multifamily living experience at San Villante."
San Villante is a multimillion-dollar project located in Mesa at Higley and Baseline. It will welcome its first residents beginning Monday, March 2. San Villante offers its community members a resort-style pool, modern clubhouse for entertaining, spacious apartment interiors, premium finishes and in-unit laundry. It is located adjacent to the 60 freeway, just minutes from a plethora of exceptional shopping and dining, and a stone's throw from top employers like Banner Gateway Medical Center.
Mark-Taylor Residential, the state's largest commercial developer and property management company of the year for nearly a decade, is proud to develop and manage San Villante.
Join the conversation on social media with #SanVillante. For more information, visit https://www.mark-taylor.com/apartments/az/mesa/san-villante/
Find out more about Mark-Taylor and what makes it the premier specialized multi-family management firm in Arizona by visiting https://www.mark-taylor.com/ or follow Mark-Taylor on Facebook, Twitter or Instagram.