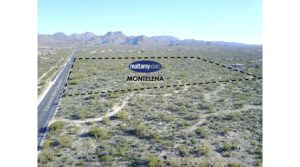 Mattamy will offer Montelena community with single-family homes in Marana, AZ.
MARANA, Ariz., Aug. 11, 2023 - Mattamy Homes, North America's largest privately owned homebuilder, is pleased to announce that it has closed on a 34-acre property in Marana, Arizona. With plans to feature 81 homesites, this deal adds to Mattamy's carefully curated selection of high-quality offerings in the greater Tucson market.
The transaction closed on August 8th at a purchase price of $5.265 million ($65,000 per lot) for fully platted and engineered/shovel-ready lots.
The new community, known as Montelena, sits near the base of the Tortolita Mountains with open, gently rolling desert topography. It is ¼ mile northeast of the intersection of Tangerine Road and Camino de Oeste.
Montelena will offer five single-family floorplans from the Scarlett and Sterling series, including 1- and 2-story homes. Floorplans range from 2,278 to 3,291 square feet with modern, open-concept layouts, gourmet kitchens, and spacious walk-in showers. All will come standard with 3-car garages.
Architect's Choice Options will vary by plan and offer flexible home configurations. Choices include studies instead of flex rooms, additional bedrooms, or additional garage storage space. Ranch, Desert Modern, Spanish, and Midcentury Modern elevations offer various exterior style options.
"We look forward to opening another beautiful Mattamy community in Marana," said Anjela Salyer, President of Mattamy's Tucson Division. "Montelena will include some of Mattamy Homes' finest floorplans, surrounded by spectacular Tortolita and Catalina Mountains scenery."
Montelena will offer pocket parks and a trailway system. The community also connects directly to the 8-mile Tangerine trail — a paved, multi-use pathway for walkers, runners, and cyclists.
One-half mile from Montelena, Tangerine Sky Park offers further trailways, playgrounds, a dog park, and basketball courts. Park improvements planned for late 2023 will include a splash pad.
Tortolita Mountain Park is 5.2 miles northwest of the new community for further exercise and exploration. This park offers a variety of rugged, scenic views with various hiking routes on 40 miles of trails. Additionally, homeowners will have access to more than 80 holes of golf in the surrounding area.
"Montelena's location encourages exploration," Salyer continued. "We know homeowners will enjoy abundant options for outdoor recreation, surrounded by outstanding natural beauty."
Grocery, restaurant, and retail options are also nearby, and major transportation corridors are within easy reach. Downtown Tucson is approximately 20 miles away.
Development has commenced, and Mattamy Homes expects to open Montelena for sales in 2024.
"This adds yet another Marana shop to our portfolio, with two active and two coming soon communities for 'Mattamy in Marana," said Briana Radar, Director of Land Acquisition - Tucson for Mattamy Homes.  "We love Marana's diverse and strong buyer profiles, scenic settings, an abundance of transportation corridors, outdoor amenities, and parks!"
Charlie Bowles with Bowles Realty & Investments in Oro Valley represented the seller, a family trust from Sarasota, Florida.
For more information on Mattamy communities, see https://mattamyhomes.com/arizona/tucson.
To learn more, see RED Comp #10835