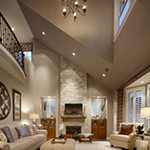 Leading national builder continues with Arizona growth strategy
TUCSON, AZ -  Canadian builder Mattamy Homes' entrance into the Tucson market is the latest example of the company's aggressive growth plans in Arizona (Mattamy has a number of active communities and land positions in the Phoenix area), and of its confidence in the future of housing in these markets.
"Tucson has a large and diverse population, supported by a multifaceted economic base," says Steve Parker, President of Mattamy's US Group. "As such, we believe that Tucson will nicely complement our other Arizona division in Phoenix, and we are looking forward to building the Mattamy brand and business in this exciting market."
To lead the company's newest division, Mattamy welcomes aboard Josh Robinson, who joined the team in early August as President of the Tucson Division. Josh has spent his entire 20-year career with Pulte Homes. Most recently he was the Director of Operations in Tucson, where he has spent the majority of his career. Josh's homebuilding experience also includes various operational roles in Southern California.
Josh will be responsible for leading all aspects of Mattamy's business in Tucson. Initially this will include sourcing and analyzing land acquisition opportunities, community and product development, as well as establishing key team members and opening a local office and design center.  Within the last 30 days, Mattamy has closed on property in Dove Mountain in Marana (180 lots, anticipated sales in Q1 2015) and Rancho Vistoso in Oro Valley, (48 acres, representing approximately 300 lots, anticipate sales in Q1 2016) and has additional locations under review.
"We are thrilled to have the opportunity for Josh to guide our newest Division through the exciting start-up phase and beyond," says Steve Parker. "His knowledge of Tucson and experience in homebuilding make Josh a great fit for our future in the market and will be invaluable as we expand our presence in Tucson as part of a significant growth plan in Arizona."
Josh states: "I'm looking forward to introducing new high-quality homes and communities into the Tucson market. I'm confident Mattamy has a proven formula for providing desirable communities and a focus on customer satisfaction. I'm honored to lead the effort on their behalf."
For more information, visit: https://www.mattamyhomes.com/