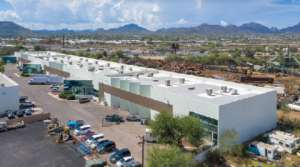 TUCSON, ARIZONA — Maya Tea Company, LLC leased 19,100-square-feet of production/distribution space at 2861 N. Flowing Wells Road within Keenan Commerce Center from Keenan Investment Company. Keenan Commerce Center is modern warehouse/office park located at Interstate 10 and Miracle Mile Road in central Tucson.
Maya Tea Company first sprouted roots in the mind of its founder, Manish Shah, who noted the rising popularity of chai tea. Born in India, Manish sipped chai throughout his childhood and into his adult life. To meet the demand for an authentic chai product, Manish and his brother Yash developed a chai blend reminiscent of the chai prepared by their mother in youth. Packaged in teabags for convenience and freshness, the new product was labeled "MY Chai" after the first initials of the two brothers' first names. Later they developed the first chai tea that could be brewed using commercial coffee brewers for cafes and restaurants. As business grew they received requests from customers and retail clients for more traditional teas as well. The Maya Tea Company was born.
Over the years, Maya Tea has grown their catalog and customer-base to host over 130 different blends of loose leaf teas, earth-friendly sachet tea bags, commercial iced teas, and amazing chai concentrates based on that same heritage recipe. Maya Tea Company continues to grow, and the initial efforts of Manish have generated today's team of over twenty devoted, hard-working individuals who work endlessly to bring the best that the tea world has to offer into each individual cup.
Gary Emerson of GRE Partners, LLC represented the landlord and Karen Farrell and Jordan Simon of Venture West represented the tenant.
Login and submit sales and leases to REDailyNews@outlook.com