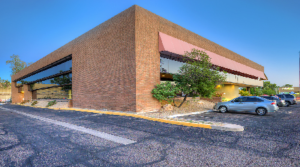 Phoenix, Arizona –  Seasoned Senior Advisor Judy Jones and area expert Eddie Gonzalez with SVN Desert Commercial Advisors facilitated the sale of the 35-year-old building for $2.2 million in Phoenix.  During the past 8 years, the multi-tenant office property has been home to Mega 104.3 radio station.  The buyer will be making major changes to the property which includes interior and exterior improvements.  Once completed, the new ownership plans to re-tenant the building.
The 25,753-square-foot red brick garden-style office building on 1.26 acres located at 1710 E. Indian School Rd. was built in 1985. Judy Jones and Eddie Gonzalez represented the seller of the property, Occidental Investments, LLC which is located in California and has been a long-time commercial real estate investor.  The "forward-thinking" 1031 Exchange buyer, PHX Buildings, LLC, lives and invests in Arizona.
SVN Gonzalez stated, "With the Arcadia Lite neighborhood pushing west and the large development projects at the corner of Indian School Rd. and Central Ave., this building is truly on the path of progress."  SVN Jones stated: "It has "good bones" and due to the age and condition of the property, it needed a buyer with a vision."   This central location will be a great opportunity for leasing to move quickly once the renovations are completed.  "The property is very well located with quick freeway access and wonderful mountain views," said Jones.
The seller, Mike Taylor said: "Eddie Gonzalez and Judy Jones were active in the marketing process, worked very hard and generated multiple offers.  They were very thorough during the escrow process to finalize the sale of our property".