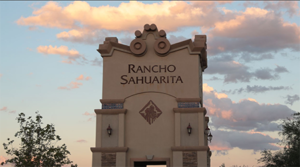 Rancho Sahuarita is a popular area for homebuilders
SAHUARITA, ARIZONA – As reported last month, the first phases of Entrada Del Rio subdivision in the Master Planned Community of Rancho Sahuarita has all its lots either sold or under contract. Meritage Homes of Arizona recently bought 74 P&E lots here for $976,800 ($13,200 per lot). Meritage will finish the lots.
Demand for new homes is being driven by historically low mortgage interest rates, a shortage of used homes for sale, and an increased need for homes that can accommodate entire families working from home more than ever before. Many of those families are choosing safe suburban communities rather than crowded urban centers and many often prefer to purchase a home virtually rather than physically.
That is exactly what Meritage offers. 100% of its communities are open for both in-person and virtual sales, and its virtual selling capabilities have been very beneficial. More than half of its communities are designed for the entry-level market with a wide selection of affordable homes ready for quick move-in, while its streamlined design selection process in Studio M allows first move-up customers to move quickly into a new home.
Steven J. Hilton, chairman and chief executive officer of Meritage Homes is quoted in a recent written quarterly statement saying: "The entire Meritage organization is executing at a high level to drive powerful earnings growth. Our second quarter net earnings increased 78% through the combination of a 20% increase in home closing revenue, our highest gross margin in six years of 21.4% and our fourth consecutive quarter of improving overhead leverage — to just 10.3% of home closing revenue."
"As a result, we ended the quarter with the strongest balance sheet we've ever had, including almost a half billion dollars in cash and the lowest net debt-to-capital ratio in our history, which gives us the flexibility to continue to grow and expand market share while also providing a healthy cushion in the event that conditions weaken," Hilton added.
Entrada Del Rio will comprise over 500 new homes in Rancho Sahuarita when complete, with ease of access in and out of the community, close proximity to local schools, and the Parque Del Rio neighborhood amenities and the Rancho Sahuarita Marketplace nearby and a wide selection of affordable homes.
More information about the line of Meritage Homes available in Entrada Del Rio can be found online
For more information on Entrada Del Rio at Rancho Sahuarita, Diana Dessy, Director of Land Assets for Rancho Sahuarita Management Company can be reached at 520.275.7235.
To learn more, see RED Comp #8043.