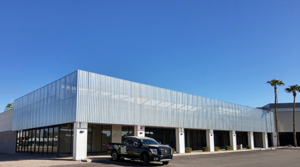 Phoenix, AZ – Seasoned commercial real estate broker, Ian Turner with Commercial Industrial Arizona Advisors was recently involved in helping a long-time investor acquire a once thriving retail strip center just south of the Metro Parkway circle. Turner represented the seller and buyer in the sale of Metro South Shops for $1.18 million.
The property is located off 29th Avenue, just south of the entrance into the main entrance, N. Metro Parkway. The Metro South Shops is specifically located at 9070 N 29th Ave, right next to anchored retailer, Goodwill Thrift Store off the N. Black Canyon Hwy. The seller, Jeff Geyser with GM Metro, LLC sold to Neil Mody with Dunlap Commercial, LLC. The approximate 11,000 square-foot building will add another center to the buyer's investment portfolio. Geyser has been redeveloping the site for quite some time and the overall property has a great foundation to rebuild and attract new business in the area.
Turner stated, "The light rail is going in, just north of Dunlap Ave and a new +200-unit multifamily development is being built just west of the building."
In late December of last year, news broke that plans for the $750 million redevelopment of the iconic Metrocenter Mall would be one of the largest mall redevelopment projects in Arizona history, according to Concord Wilshire Companies, one of the developers for the project. With the city approved $150 million light rail project, this will make it easy for people who are gravitating to live and work in the area. Metrocenter will be developed into a residential and mixed-use community. Though the buyer was looking in other areas around this development, Metro South Shops was the perfect value-add property that would see great potential and gain extra yield long-term. Turner introduced the property and the buyer saw great potential. The empty gray shell building will give the new buyer a chance to bring some great tenants to accommodate all the upcoming developments in the area.
"Mody was super excited about the prospect and the price per square-foot that he and the seller agreed to," said Turner. It was far below replacement costs and there is a huge upside to redeveloping the building that is contiguous to Goodwill Retail Center, a thriving retail thrift store.