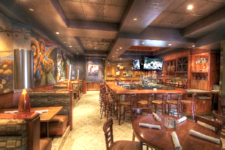 Restaurant group expects to launch new concept later in fall
Oro Valley, AZ --- In a fitting tribute to the generations of the brave men and women who have served in the armed forces, Metropolitan Grill has announced that its final day of operation will be Memorial Day, May 26, rounding out an 18-year run of service to Northwest Tucson and Southern Arizona.
"The decision to close a restaurant is never an easy one," said Bob McMahon, president of Metro Restaurants, which owns and operates Metropolitan Grill. "But the impact that our ever-changing food and beverage marketplace had on the Metropolitan Grill presented some challenges that we simply were not able to overcome," he continued.
For years dubbed "America's kitchen" by staff and patrons alike, the Oro Valley eatery stood as a patriotic symbol of Americana, with its red, white and blue color scheme and a framed American flag constructed exclusively from shards of dinner plates.
"We dedicated this concept to all of those who fought for the freedoms we enjoy today, which is why we decided to finish the story with a final tribute on the very day set aside for reflection, and to salute all of our guests who have stood beside us for so long," McMahon said.
While preparing for the restaurant's last day of service, McMahon reports that the closure will not have an impact on the company's two other concepts, McMahon's Prime Steakhouse and Old Pueblo Grille. In fact, he shared that plans are now in process to launch a new restaurant concept later in the year, a concept that McMahon says his business partner, Dan Multhup – who he calls his "exit strategy" – is excited to launch.
"Business continues to thrive at McMahon's and OPG," McMahon said, "which reaffirms our motto that it's our guests themselves who give us the opportunity to enjoy a great business. That, coupled with an exciting new concept that my business partner hopes to announce shortly, underscores our encouragement that the future is bright."
Metropolitan Grill staff members will be given every effort available to be reassigned to the company's two other concepts, or will be encouraged to apply at the new concept once it gets closer to opening.
"We hope that this will be a short-term situation," McMahon said. "We've pledged to work with each of our staff members individually, doing what we can to help support their transitions."
Metropolitan Grill will run a Memorial Day Weekend special for all Military and Public Safety professionals from Saturday through Monday from 11am to 10pm. All law enforcement, corrections, firefighters, border patrol, active and retired military, veterans, spouses of deployed and VA personnel may enjoy a 'Buy One Entrée, Get One Free' special for lunch or dinner.
The restaurant is taking reservations at 531-1212.