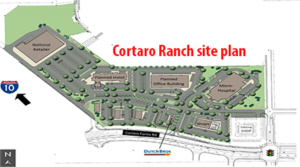 MARANA, ARIZONA – Cortaro Commercial JV, LLC sold 3.86-acres at 5600 West Cortaro Farms Road in Cortaro Ranch, off I-10, for $966,650 (5.75 PSF) in Marana. The buyer is Marana Micro-Hospital, LLC, an affiliate of Beaumont Surgical Hospital Partners of The Woodlands, TX plan to construct a 40,000-square-foot micro-hospital on the site.
Cortaro Ranch is approximately 20-acres, at the northeast of Cortaro Farms and I-10, currently with an IHOP (soon to be rebranded IHOB) at 8445 N Cerius Stravenue, as shown on the site plan. The micro-hospital will be located to the north of IHOP and a build-to-suit Dutch Bros Coffee with drive-thru under construction by the seller / developer, Thrift Thompson Retail Group (TTRG).
Cortaro Commercial JV is a joint venture between Caddis Bridge (Greg Anderson) of Tucson and TTRG, a Terra Haute, Indiana based company with an office in Phoenix (Chris Hake, Vice-President and Director of Southwest Region).
Chris Hake is leading the development and heads up the local operations in Phoenix. Hake has been with Thompson Thrift since 2007 and has been in the commercial real estate industry for over 10-years. Hake told us the company is also in negotiations with a national retailer for a 45,000-square-foot store at the northwest corner of the center, shown on the site plan.
Plans are to develop an additional medical / office building adjoining the 35,000-square-foot, 22-bed micro-hospital, including inpatient and emergency room beds, a planned hotel site and additional retail shop space at Cortaro Ranch. Serial Grillers recently announced a future restaurant here while still doing tenant improvements at the former Chuy's in Rita Ranch at 7585 S. Houghton Road in Tucson.
This is the second micro-hospital in metro Tucson, the first was built as an Emergency Center at Houghton Town Center by Northwest Medical Center.
Starting in Colorado, Texas, Indiana, and other large- and medium-sized cities in the United States, micro-hospitals are licensed facilities that tailor their services to the populations they serve. Some offer an emergency department, pharmacy, lab, and imaging center. Others focus on primary care, nutrition services, gynecological and other women's health services, and minor outpatient surgeries. Thanks to their smaller size and fewer services offered, micro-hospitals charge less than larger traditional hospitals, and like their larger counterparts, are open 24/7.
Brokers who represented the seller on the hospital closing are Chuck Wells with CBC Advisors of Phoenix, Brenna Lacey with Volk & Co. and Paul Serafin with De Rito. The buyer's broker was David Montijo with CBRE in Tucson.
Wells can be reached at 602.884.8345, Lacey should be contacted at 520.326.3200 and Serafin is at 480.834.8500. To contact Montijo, call 520.323.5100.
To learn more, see RED Comp #5890.