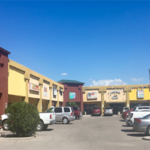 TUCSON, AZ -- Plaza Azteca at 3553 S 12th Avenue in Tucson sold to a San Jose-based NAI Investments for $570,00 ($31 PSF). The property is an 18,551-square-foot strip center, built in 2000, on approximately 1.8 acres with 14 storefronts
Located on the corner of South 12th Ave. and Veterans Blvd, it is approximately .6 miles west of the Southern Arizona Veterans Hospital and within minutes of Interstate 10, Interstate 19 and downtown Tucson.
Well-built with ample parking and curb appeal the property sold 78.6% occupied and 2,500-square-feet vacant space at time of sale.
Jade Bossert with Tierra Antigua represented both the buyer and seller, Mark Bequette of Sequim, Washington.
Bossert said, "We received nine offers on the property which shows the tremendous interest by investors for this type of retail properties."
The new owner plans to re-position and re-tenant the center.
For more information, Bossert should be reached at 520.544.2335.
To learn more, see RED Comp #4237