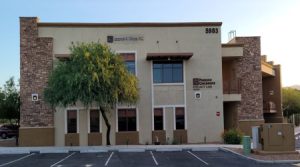 TUCSON, AZ (November 21, 2023) -- Mesquite Building, LLC c/o Dr. Jeffrey Couchman, a pediatrician, purchased a 4,122-square-foot office condominium at Grant Professional Plaza, 5983 E. Grant Road in Tucson for $975,000 ($236.54 PSF).
The spacious office condominium is newer construction, a highly desirable first-floor suite with above standard TI's, sprinklered, and four (4) covered parking spots in this Class "A" office park, less than one mile from Tucson Medical Center.
The transaction closed on November 15, 2023.
Gordon Wagner and Ben Craney with NAI represented the seller, Lariano Investments, LLC of Cedar City, UT.
Buzz Isaacson with Buzz Isaacson Realty, LLC represented the buyer.
For more information, Wagner can be contacted at 520.326.2200 and Craney at 520.326.4500; Isaacson can be reached at 520.529.1300.
To learn more details, see RED Comps #10986.