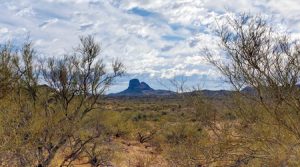 PHOENIX, ARIZONA (October 17, 2023) – NAI Horizon facilitated the sale of 643 acres in Wickenburg, Arizona; this large land sale is part of the Flying E Ranch, an authentic dude ranch that has operated since 1949.
NAI Horizon Executive Vice President Lane Neville and Associate Cole Neville represented the seller, Flying E Ranch Holding, LLC, in the $7.07 million land sale. The property is located west of Vulture Mine Road in Maricopa County on the U.S. 60 Highway.
"It has truly been an honor to be part of this sale, a special and historical Arizona property. Flying E Ranch remains as a living tribute to the cowboy lifestyle, representing the heritage of Arizona's beginnings," Lane Neville said. "More than 1,200 acres remain as part of the existing dude ranch. The operational dude ranch is surrounded by more than 17,000 acres of pristine desert under a state land department lease for grazing, allowing guests experiences that include overnight lodging, horseback riding, cattle drives, steak frys, skeet shooting, and 4x4 adventures."
The Flying E Ranch, as a Western lifestyle venue, hosts large country music events, professional rodeos and serves as corporate retreat for Fortune 500 companies from around the U.S.
At an elevation of 2,400 feet, the Ranch is located in the high Sonoran Desert, just 45 minutes northwest of Metro Phoenix. The property has spectacular views of the Bradshaw and Weaver mountains. The property's signature mountain peak is Vulture Peak, a gold mine discovered in 1863 by Henry Wickenburg. It is the visual backdrop, adjacent to the Flying E Ranch.
"We at the Flying E Ranch could have sold this piece for considerably more money over the past 5 years, but we really believe in the buyer and their planned charitable use," said Jim Brown, one of the Ranch partners and member of the ownership entity.  "As an operating Ranch, the Flying E looks forward to working with our new neighbor, to help as we can to make their vision a reality."
The buyer of the 643 acres is Michael C. Emond and Kathryn K. Emond, Trustees of the Emond Family Revocable Trust.
"The Trust purchased the property to co-locate as neighbors to the Ranch. Our intended use is to develop and utilize the 643 acres as secluded natural open space for physical and emotional equine-assisted therapy for economically disadvantaged Wickenburg residents," said Micheal Emond, Trustee of the buying entity.
For additional information on remaining residential and commercial land sale opportunities, contact Lane Neville at lane.neville@naihorizon.com.