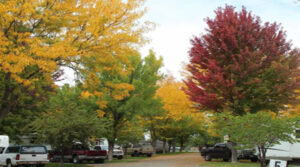 PHOENIX, ARIZONA (Feb. 8, 2023) – NAI Horizon represented the buyer in the acquisition of an RV park that includes several buildings and additional acreage in Hagerman, Idaho.
Andrew Warner, CCIM, First Vice President with NAI Horizon's Manufactured Housing & RV Park Investments Group, represented Hagerman RV Village LLC c/o Michael Kissinger in the purchase of Hagerman RV Village.
The asset comprises 60 RV spaces, 10 cabins, a warehouse and building that the previous owner used for storage for his construction company, and an adjacent 9.6-acre parcel of land. The property sits on 9.13 acres. The land provides an opportunity for the new owner to develop an additional 70 to 80 RV spaces or add amenities.
"The previous owner kept rates low, providing tremendous value to customers with monthly rates $100 to $200 less than the competition in the area commanding a long wait list," Warner said. "The new owner is eager to continue this legacy and improve upon the park, eventually building it out to offer even more spaces to visitors."
Hagerman RV Village amenities include a rec room, Wi-Fi service, a playground, restrooms, ice cream and ice sales, and mature trees. It is in close proximity to popular
fishing destination Snake River and is surrounded by scenic drives, hiking trails, hot springs, and the historic Hagerman Fossil Beds.
The seller was Edward Wickham of Hagerman, Idaho.