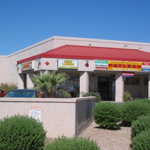 PHOENIX, ARIZONA -- With an office in Tempe, a Washington-based software company was looking for another location in the Valley that would offer walkable amenities to its employees. It found such a location within downtown Chandler's urban redevelopment area.
NAI Horizon Senior Vice President Laurel Lewis represented the buyer in the $1 million sale of a 6,725-square-foot Chandler office building at 398 S. Arizona Avenue. Faithlife Corporation purchased the former grocery store from C.J.S. of Arizona LLC.
"With tech companies looking for urban cool along with the adaptive reuse trend, this was an ideal location for Faithlife," Lewis said. "The buyer's philosophy is 'be the change, not wait for the change.'"
Faithlife Corporation is headquartered in Bellingham, Wash. It also has a 20,000-square-foot building in Tempe. It provides Bible study software along with a line of resources for Christian living, according to its website.
"It's exciting to see this type of investment and office development convert an existing building into a new use in downtown Chandler," Chandler Mayor Jay Tibshraeny said. "Downtown Chandler has become the epicenter for entrepreneurs and technology companies and this new facility validates our efforts to bring high-wage jobs and creative minds to a dynamic area of our city."
The City of Chandler continues to look to its past for inspiration for new designs that fit its image as a high-tech community. The goal is to create an urban environment that is pedestrian friendly with architecture and character that is unique. This includes the creation of strategically placed parking structures, covered pedestrian walkways, striking historically inspired architecture, historic preservation and uses that will complement the community and marketplace.
Faithlife's building will be two blocks from Chandler City Hall, entertainment, and restaurants. It is half a mile from the Loop 202. Faithlife will use the facility for software developers and sales.