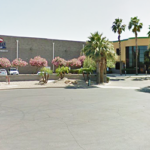 PHOENIX, ARIZONA -- NAI Horizon Senior Vice President Jeff Adams represented the buyer in the $2.456 million sale of a 26,199-square-foot industrial building at 4151 W. Lindbergh Way in Chandler, Arizona.
Adams represented Marx Properties, LLC, of Phoenix. The property sits on 1.83 acres along the Loop 202 with proximity to Stellar Airpark. It will be used for corporate event planning and production. The building features three dock high doors, a two-story office totaling 8,980 SF which includes reception and private offices, and a fenced yard with taxiway access.
"This feature-laden, freestanding building opportunity allowed enough room for my expanding client to increase operations over the coming years," Adams said. "It added to their portfolio in a high-demand real estate type and sector with a facility that is also in proximity to local clientele and their residences."
The seller, Coliman Pacific Corporation of Chandler, was represented by Justin Carlson of JR Carlson Company of Scottsdale, Ariz.