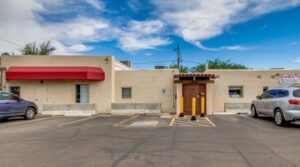 PHOENIX, ARIZONA  – NAI Horizon represented the buyer in the acquisition of an original adobe building in a rare infill location in North Central Phoenix that will be repurposed into a training center and outdoor space.
NAI Horizon Managing Director Laurel Lewis represented Always This Good Holdings, Inc., in the $735,000 purchase of the 3,757 SF building at 715 E. Sierra Vista Drive, in Phoenix.
Always This Good Holdings purchased and closed on the property on June 30. The oldest aerial photograph shows the original adobe block structure nestled among the orange orchards in the North Central Phoenix corridor.
The building, a former Jewish girls' school, had recently undergone some additions. After the planned renovations, the property will include more than 4,000 SF of modern offices, a training center, a full kitchen, and outdoor event space. It will also offer a private suite available for lease.
"North Central Phoenix with its ideal location and mix of architecture and style is the happening place to be," Lewis said. "The original adobe block structure will be incorporated into the repurposed building, lending to a stunning transformation."
This fall the new space will be home to Catalyst Retreat Center for women entrepreneurs and Desert Dimensions Properties, a residential real estate brokerage firm.
The seller, Shearim Torah High School, Inc., was represented by Danny Kahn with E&G Real Estate.