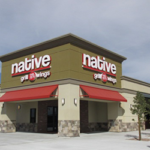 Native Grill & Wings, at 10255 East Old Vail Road in Tucson sold in an investment sale for $3,147,541 ($631 PSF). An award winning Arizona restaurant chain known for its 20+ wing flavors that guests can order by the individual wing, is opened this location, its fourth location in Tucson on April 18, 2016.
The newly constructed 4,991-square-foot restaurant is located on a 1.2 acre pad in Old Vail Plaza on the hard southwest corner of Old Vail and Houghton Road where a variety of top tier retailers have signed leases.
The new restaurant is owned by franchise connoisseur Brad Williams. He also acquired part-ownership of the Native Grill & Wings franchise in Fall 2015, and just recently opened his first location in Missoula, Montana.
"I am excited to continue bringing a staple brand like Native Grill & Wings to the people of Tucson," said Williams. "We hope to see the city remain a hub for chicken wing lovers who have remained loyal to the Native name for decades."
Williams is no rookie to the franchise industry, owning 15 Freddy's Steakburgers and Frozen Custards locations with development rights for 50 more in Utah, Idaho, Montana, Wyoming, and Arizona. His first Montana Native Grill & Wings location opened February 1, and he plans on opening between four and six more in the future.
Native Grill & Wings (or, "Native," as the regulars called it) focuses on food and being family-friendly. The polished sports grill proudly offers 20 wing flavors – from Strawberry Hot to Ancho Chile Lime, Asian Garlic to Honey Chipotle, as well as an extensive menu of burgers, sandwiches, salads and more. Most of the sauces and rubs can be used to customize other menu items.
The restaurants are divided into a bar and restaurant, with approximately 30-40 flat screen TVs throughout, offering sports coverage for families and serious fans, and a customer base spanning all generations – baby boomers, Generation Xers and Millennials.
Native is open from 11:00 am to 11:00 pm every day except Friday and Saturday when it is open from 11:00 am to midnight.
"We've primarily followed the hub-and-spoke model of expansion, conquering our local market first, and then expanding into additional cities and states throughout the nation," said CEO Dan Chaon. "We're incredibly proud of the recognition and iconic status we've received in our own backyard over the past three decades and we hope to see the brand continue to grow more and more in Arizona.
The property sold with a 15-year absolute net lease with rental increases every five years and option periods.
John Andreini of Capital Pacific in San Francisco handled the transaction representing the seller, Las Plazas Native LLC of Surprise and the investor G&G Investments of Sherman Oaks, CA (Andrew Glassman, manager).
For more information, Andreini should be reached at 415.274.2715 and Williams can be called at 520.822.8394.
To learn more, see RED Comp #3800.