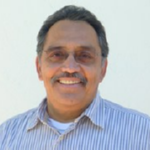 The Tubac Golf Resort & Spa, located at 65 Avenida de Otero in Tubac, Arizona, 40 minutes south of Tucson at base of the Santa Rita Mountains, has announced the hiring of Ricardo Velez as International Sales Manager to handle the rapidly increasing demand for hotel rooms and meeting space from the maquiladoras and produce companies located in Sonora, Mexico.
The Tubac Resort is on an historic 500-acre Otero Cattle Ranch with 52 hacienda suites, 16 casita suites, 29 posada rooms and the Otero House, surrounding the pool/cabana and mini golf course. Tubac Resort, with the continued development of the port at Guaymas, the recent establishment of factories such as Mercedes Benz among others and the rapid growth of the existing businesses in Sonora is positioning itself to capitalize on its perfect location and premium facilities by having "the most knowledgeable and experienced sales person in the region representing them," according to the announcement.
"Nobody knows Nogales better," says Linda Cormier, VP of Hotel Operations at the Tubac Golf Resort & Spa. "Ricardo brings over 35 years of experience in this market to our resort. He knows everyone and everyone knows and respects him." Velez, who was born in Nogales, and has seen the highs and lows through the years, agrees that the future looks bright. "About six years ago many maquiladoras sent their business to China," Velez said. "Now they are coming back, and I look forward to bringing that business to the Tubac Golf Resort & Spa and to Santa Cruz County, my home."
The Tubac Resort also offers meeting and event facilities including six grand meeting rooms, stunning outdoor settings and a mission style chapel totaling over 7,000 square feet. Indulgences include a full-service destination spa, the resort's signature restaurant and its 27-hole championship golf course made famous by the movie Tin Cup with Kevin Costner and Rene Russo. Less than a mile away from the resort are the charming artisans' Village of Tubac and Tubac Presidio Historic Park.
For more information about the Tubac Golf Resort & Spa, please call 520-398-3355 or visit https://www.TubacGolfResort.com