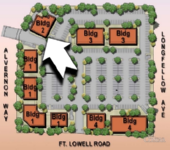 This article has been archived, please login for access or subscribe now by going to the subscribe tab at the top of page.
A new two-story, 6,300-square-foot surgical center will soon be built at the Puente Nuevo Plaza at the northeast corner of Fort Lowell and Alvernon Way in Tucson. A 4,980-square foot pad has been purchased by Red Mountain Retail Group (Michael Mugel, managing member) of Santa Ana, CA, a medical development group for[mepr-show rules="58038"]$535,000 for the building pad.
"It's a good fit for the Puente Nuevo Plaza," commented Rick Kleiner of Cushman & Wakefield | Picor of Tucson. "The mixed use center has about 30,000-square-feet remaining of improved pad space."
The excellent northwest location on Fort Lowell with easy accesses to the I-10 freeway, University of Arizona and only minutes away from the Foothills and Northwest residential market attracted the developer.
The property address for the new surgical center will be 3935 East Fort Lowell Road, Tucson, with construction planned to begin in January.
Rick Kleiner, MBA, Principal and Office Specialist with Cushman & Wakefield | Picor of Tucson represented the seller, Puente Nuevo Development LLC of Utah (Craig Masters and Richard Dudley, managing members) the developer of Puente Nuevo Plaza. Aaron Kuhl of Plaza Del Rio Management Corp. of Peoria represented the buyer.
For more information, Mugel can be contacted at (714) 245-7400. Kleiner can be reached at (520) 546-2745. Kuhl is at (623) 972-1184.
[mepr-show rules="58038"][/mepr-show]Sale date: 10/1/2013 All cash transaction.  Medical Office Broker of Phoenix is reported as out of business on the Arizona Department of Real Estate site. Price per SF for land would be $107.43 PSF, Plat map and assessor show this pad as 4,980 SF.  Chestnut Construction is suppose to have the construction contract, but wanted to confirm before publishing. APN: 110-03-593.[/mepr-show]
[/mepr-show]