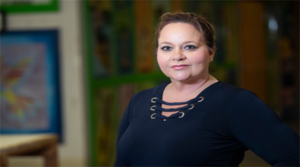 PIMA COUNTY, ARIZONA -- The new program manager of Pima County's Las Artes Arts & Education Center has more than a decade of experience connecting people to jobs. But it was her own experience more than 30 years ago as a pregnant high school student that has led her to a job connecting at-risk students to brighter futures.
In early February, Patricia Gastélum took over as program manager at Las Artes, which combines structured coursework with community art projects while preparing students to earn their General Education Diploma (GED). Gastélum comes to the job from the business services team of the County's Community Services, Employment and Training Department, which oversees Las Artes. She replaces Arnold Palacios, who is now director of Community Services, Employment and Training.
In her previous role in "Rapid Response," Gastélum helped employers manage layoffs or downsizing efforts. She also assisted those displaced workers with everything from filing for unemployment insurance to polishing resumes to prepare them for new careers.
Now, she hopes to be the guiding influence on the lives of the youth age 17 to 22 who are coming to Las Artes, often after unsuccessful stints at traditional high schools.
"It's about ensuring the safety of students," Gastélum said. "I want to make this a welcoming environment and help them explore career pathways while pursuing their GED."
At one time, Gastélum faced those same obstacles confronting today's students. In the late 1980s, she was a junior at Sunnyside High School when she discovered she was pregnant. Dropping out of school seemed inevitable.
"But I had someone who believed in me," she recalled. That year the school launched a teenage parenting program that enabled students like Gastélum, who got married in her senior year, to care for their children while finishing their degrees.
Now a mother of four and grandmother of three, Gastélum was able to graduate with her 11-month-old son at her side, thanks to that caring counselor. She wants to be a similar resource for the students at Las Artes, many of whom face challenges such as homelessness, pregnancy and poverty.
"I'd like to have kind of a mini-resource center here so they can do some career exploration," Gastélum said. Her own work history has revolved around putting people to work. By connecting students with work experience programs or on-the-job training, she can continue the County's mission of creating a strong workforce for the employers here now and those wishing to locate in Pima County.
Gastélum simply wants students to know, "I'm here for them. My job is to make the best of their time here."