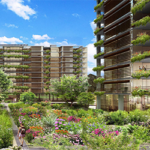 On the heels of having the "hottest month in a decade" earlier this year, Phoenix-Scottsdale remains a top market for buyers as the result of a post-recession boom and tremendous job growth 
PHOENIX, AZ – Leading West Coast sales and marketing company, Polaris Pacific today announced the launch of their industry-acclaimed research reports in Phoenix-Scottsdale. The initial Phoenix-Scottsdale September report illustrates a condominium market that is performing exceptionally well, with every neighborhood experiencing an increase in annual price-per-square-foot. With nearly 20 condo projects currently under construction in the Phoenix and Scottsdale communities, the robust condo activity is supported by job growth primarily in the tech sector, a post-recession flourishing of art, restaurants and transit, and an influx of empty nesters looking to downsize without compromising on luxury.
North and South Scottsdale experienced the largest number of sales over the past three months by a substantial margin (312 and 356 sales, respectively), while Central Phoenix saw the largest increase in annual sales at 41.9 percent and modest growth in annual price-per-square-foot change. With inventory at 4.0 months (six months is considered a balanced market) and 575 new condos on the market, condo pricing differs drastically from other top markets; for example, the average price-per-square-foot in San Francisco hovers between $1,200-$1,300, compared to $230-$430 in Phoenix-Scottsdale. Rental product in Phoenix-Scottsdale is also experiencing major growth; the average rent for an apartment in Phoenix rose 13.0 percent in the month of June, making it the largest monthly increase in the country for that month.
"The Phoenix-Scottsdale market is in an earlier inning of the real estate cycle compared to other top West Coast markets and we are continuing to see strong market fundamentals paint the picture for a bright future ahead," said Miles Garber, Vice President of Research for Polaris Pacific.  "This is an extremely attractive market to a range of seasonal and full-time buyers, including empty nesters and senior buyers who value a safe 'lock and leave' lifestyle, a reputable healthcare system and cultural activities."
Polaris Pacific is currently active in the market leading sales and marketing efforts for Optima Kierland, a four-tower residential project in North Scottsdale, the first phase of which came to market in April 2016.
"Phoenix and Scottsdale are just beginning to warm up to mid-rise buildings because great views can be attained from low stories as the city lacks the height of other major cities," noted Garrett Frakes, Managing Partner for Polaris Pacific. "We've been incredibly pleased with the quick absorption of Optima Kierland, and believe there will be continued demand for this type of luxury product in the market."
Currently published in six key West Coast markets including Los Angeles, San Diego, San Francisco, Oakland/Emeryville, Silicon Valley and Seattle, the reports are published monthly by Polaris Pacific's dedicated research team and summarize market conditions in key geographies.
Polaris Pacific is a West Coast's new home sales and marketing company for the new economy, with 30 years of experience and access to the most innovative research and technology platforms in the industry. For more information, please visit www.polarispacific.com.
Here is the link to the Polaris Pacific September report.