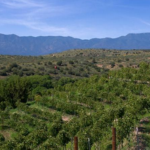 Watching the new Southern Arizona Winemaking industry come to life is getting more exciting these days, as an industry there are some excellent products. With most of the bottling and tasting being done up north, Southern Arizona seems now be catching on that we also have wine enthusiasts down here who are supporters of Southern Arizona's Wine Country too.
SIERRA BONITA VINEYARD ANNOUNCES A TUCSON TASTING ROOM
One of Southern Arizona's Vineyards from Graham County, outside of Willcox, has plans to open a tasting room in Tucson. Sierra Bonita Vineyards hopes to open its tasting room in November in an office building the owners already own at 6720 E Camino Principal, near Tucson Country Club.
The tasting room will be a 434 square-foot space adjacent to the law office of Gerald and John Smith – father and son, respectively have practices law in Tucson for four years. Gerald Smith was a bankruptcy attorney in Phoenix for 50 years before relocating to Tucson in order to be closer to the farm.
Family owned and operated since Gerald and Jane Smith bought the farm and vineyard in the mid-'80s, Sierra Bonita planted its first vines in 1996 to release its first vintages in 2011.
Until now, the family has sold its wines through the vineyard, and at a few Phoenix-area restaurants and at Tucson's Feast restaurant.
OCTOBER 19 & 20 WILLCOX WINE COUNTRY FESTIVAL
The Willcox Wine Country Festival is a two-day fun-filled event at historic Railroad Park in downtown Willcox. Just an hour's drive east of Tucson on I-10, the Willcox Wine Country Festival is a perfect getaway for Phoenix and Tucson residents. It's not too far, but feels a world away. Your $15 tasting fee includes 8 wine tastings, a commemorative glass and live entertainment. Additional tasting tickets may be purchased at the hospitality kiosk.
Willcox Wine Country holds two wine festivals each year. The spring wine festival is held on the 3dr weekend in May and the fall festival is on the 3rd weekend in October, this year October 19th and 20th where you can enjoy more than 70 wines from 16 wineries.
For a listing of the Willcox Wine Country winemakers click here: https://www.willcoxwines.com/events.html
INTERVIEW WITH FIRST FEMALE WINEMAKER IN SONOITA/ELGIN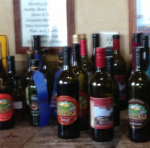 "Pull the Cork" blog recently posted an exclusive interview with Karyl Wilhelm of the Wilhelm Family Vineyards, the first female winemaker in the Sonoita/Elgin area.
Karly Wilhelm is a woman on a mission, in more than one sense. She worked medical evacuation in the first Gulf War and it was during this time that she met her husband Kevin, a fighter pilot. Two military careers combined with children eventually made for a very hectic life. The pair realized they wanted a change and some open space, and decided on the Sonoita/Elgin area because it's commutable for Kevin (to his "day job" at Davis-Monthan Air Force Base in Tucson) and the weather in southern Arizona provides four distinct seasons.
The Wilhelm Family Vineyards purchased 20 acres of grassland in the Sonoita/Elgin area in 2004. They started from scratch. Before drilling their well, they called in Tom Hunt, a well-known dowser from Tucson. They began planting their vineyards in 2005. Some varieties did better than others. They lived for a time in a 5th wheel trailer on the property before plans for the home/winery/tasting room began. In 2008, they had their first harvest and the winery/ tasting room opened, which Karyl affectionately calls her "butterscotch castle".
They have about 8 acres planted in Cabernet Sauvignon, Mourvedre, Cinsault, Tannat, Graciano, Petite Verdot and their only white variety Albarino. She purchases grapes form other growers as will. Kevin is the vineyard manager. Their crop has improved every year as Kevin constantly learns what works and what doesn't in the vineyard.
For complete story see https://pullthecork.com/wilhelm-family-vineyards-elgin-Arizona