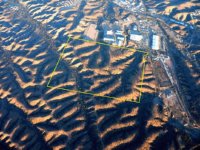 La Loma Grande, a new 215-acre industrial park near Mariposa Road in Nogales, AZ has broken ground in anticipation of the $213-million port expansion, slated for completion next year, and the increased cross-border flow of products from the growing assembly plant industry south of the border.
The project will be a hefty addition to the industrial market in the area, with large lots that can be used by manufacturers, border logistics companies, produce distributors, and custom brokers, among others.
Nogales customs house, Suarez Brokerage is planning a 38,000-square-foot office and warehouse facility just off of Mariposa Ranch Road. A mile north of La Loma Grande industrial park, Maval Warehouse is expanding its operations to include a new 25,000-square-foot warehouse on Industrial Park Drive.
Maval Warehouse, Inc. deals primarily in cross-border trade, such as importing fruits and vegetables from Mexico ad shipping automobile parts and raw materials to foreign-owned factories in Sonora.
"The expanded Mariposa Port of Entry promises to increase cross- border trade, making the decision to build a new warehouse a simple one," said Marco Valenzuela, owner of Maval Warehouse.
Also in the works is a 90,000-square-foot produce warehouse on North Target Range Road, according to city records. Other projects, such as a 100,000-square-foot warehouse and a 5,000-square-foot office complex, both on Freeport Drive, are still in preliminary permitting phases.
The port serves as "a very important link in our logistic corridor," said Nohe Garcia, owner of La Loma Grande. In January, Garcia expects his project to be far enough along to show businesses the first round of properties, which he said would be seven acres each.
The development's large lots will allow Nogales to better compete with other ports of entry on the borders, such as Otay Mesa in California and Laredo, Texas according to Garcia. "We need to compete with them and Nogales doesn't have any large lots," he said.
Garcia is also working to bring what he calls "value-added manufacturing" to Nogales, in which an existing assembly plant in Nogales, Sonora sends products across the border for finishing or packaging, an idea that is in line with a recent University of Arizona study of Santa Cruz County businesses that called for greater integration with the plant south of the border.
For information on La Loma Grande contact Garcia at (520) 619-1186.
(Source: Nogales International, October 22, 2013)