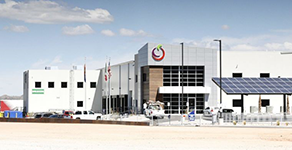 Nogales International is reporting a new 100,000-square-foot warehouse has been finished in Nogales, and now another large-scale project is in the works.
The Divine Flavor produce warehouse on Target Range Road was valued at $6 million and opened in late February. On March 10, the logistics company Joffroy Group filed a building application with the City of Nogales for a new $850,000 warehouse at 1251 N. Industrial Park Ave., with Rio Rico-based Custom Craft Builders listed as the contractor.
In terms of commercial development, "this is all the result of the increased capacity at the Mariposa port," said Bruce Bracker, chairman of the Greater Nogales Santa Cruz County Port Authority.
"This is what we were hoping for," he said, noting a 100,000-square-foot Delta Properties logistics facility under construction just west of the Mariposa Port of Entry and the 215-acre Loma Grande development near La Quinta Road.
"This is as exciting of a time that there has been in the past five years for building," said Lance Jungmeyer, president of the Nogales-based Fresh Produce Association of the Americas. "The optimism is very high right now."
However, proposed changes to the county's flood ordinance could have a chilling effect on new construction by raising the cost of new construction, he said.
Other projects inside Nogales city limits include a $210,000 retaining wall project in Villa San Simon, with DCO Custom Builders of Nogales listed as the contractor and a $327,000 new residence for the Meadow Hills Partnership, with Cono Builders of Nogales listed as the contractor.
In addition, the Starbucks at Safeway filed an application for a permit to undergo a $175,000 remodel with Valerio Architects of Nogales.
In terms of commercial construction, January was a slow month for the unincorporated areas of the county. One project included in Santa Cruz County Building Department records shows a $27,000 addition to a site at 1490 Pendleton Drive.
However, residential construction in the unincorporated areas of the county picked up in January, with county records showing six new residences valued at a total $1.37 million. With additions and accessories, the total valuation of residential construction rises to $1.76 million.
November saw $1.06 million in new residential construction, followed by $928,000 in December.
By Curt Prendergast, Nogales International - For full story click here.