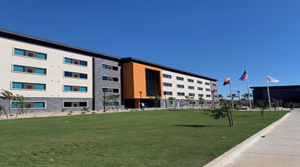 Facility Serves as Key Element of University Enrollment and Campus Expansion in Surprise
Phoenix, Arizona – NOVO Development (Kurt Rosene, Justin Miller & Stephen Hulston) has completed development of a new residence hall and student union facility at Ottawa University's OUAZ campus in Surprise, AZ.  The student-focused project was designed to accommodate significant enrollment expansion at the university.
"Ottawa has attracted an impressive increase in students and this project was created to provide university residents with a state-of-the-art housing and student union experience," says Kurt Rosene of NOVO Development.  "The convenient student union element offers a contemporary full-service dining hall, student lounge area, conference facilities and team shop. All of these elements were integrated to offer students the ultimate live, work and dine environment."
Located at 14360 W. Tierra Buena Ln., the four-story residence hall contains 76,000-square-feet of dormitory rooms with 308-beds.  The student union contains 26,000-square-feet where students and staff will utilize a fully equipped kitchen and dining facility, student lounge area, team shop, conference areas and a board room.
NOVO Development and its partners have arranged a 15-year lease for the project with Ottawa University.  Wespac Construction began work on the project in October 2018 and delivered October 2019.
The project is located on the OUAZ campus which is centered within the Surprise City Center next to City Hall. In addition to the residence hall and student union, OUAZ is completing the O'Dell Center for Athletics, a brand new multi-purpose sporting venue with gymnasium and locker rooms.