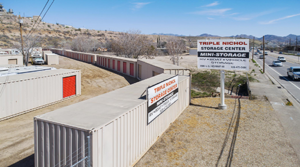 PHOENIX, ARIZONA -- NAI Horizon Senior Vice President Denise Nunez represented the seller in the $1.55 million ($5,363 per unit) sale of Triple Nichol Storage, 3586 E. U.S. Highway 60 in Miami, Arizona.
Nunez represented Georgeanna Jones of Durango, Colorado, the seller. The buyer was TAJ Apex Consulting Group, LLC of Encino, California.
Triple Nichol Storage Center is a stabilized self-storage facility first built in 1980 with additional containers added and refurbished throughout the years, most recently in 2017 and 2018. The site is 3.77 acres and serves the mining towns of Globe and Miami located four miles apart and approximately 75 minutes from Phoenix.
Triple Nichol has prominent visibility from US Highway 60 and is the largest self-storage facility serving the market with on-site management and a website presence. The facility includes 24,928 rentable-square-feet with 53 outside parking spaces for a total of 289 units.
"The asset features container storage units plus three mobile homes for the manager, office and tenant," Nunez said." The sale represents a great upside with the opportunity to grow revenues through rent increases, the addition of container units, potential reconfiguration of units for maximum space utilization and income generation and the potential leasing of office space in the main building. At the time of sale, the physical occupancy was 97.6 percent with economic occupancy at 94.9 percent."