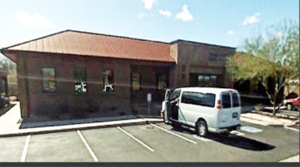 TUCSON, ARIZONA — BADA Holdings, LLC (Allison Duffy, Manager) bought a 5,520-square-foot office building from KLB Properties, LLC (Don Butler II, Manager) for $995,360 ($180 PSF). The property is located at 4534 – 4538 East Camp Lowell Drive in Camp Lowell Corporate Center at Swan and Camp Lowell.
The buyer exercised an option for Silverado Technologies also owned by Allison Duffy, that previously leased 65% of the building. Silverado will continue to lease the building with a second tenant, NFP Property and Casualty Services a Travelers Insurance firm in the remaining 1,932-square-foot office.
For 19 years Silverado has provided managed IT services to businesses in the Tucson area, and earned a reputation for exceptional customer service.  Silverado has been recognized with an Ethics in Business Award from the Better Business Bureau and a Customer Satisfaction score from Microsoft that placed the company in the Top 15% in the country.
With a team of engineers and technicians, Silverado's knowledgeable and dependable experts have certifications from Microsoft, Cisco, VMware, and more.  To keep up with the ever-changing world of information technology and be a true IT advisor its clients.
As a full-service IT Managed Services Provider, Silverado Technologies offers:
Services: Managed IT Support, Office 365, Local and Offsite Backup, Network Monitoring
Solutions: Security, Cloud, Virtualization, Network Design, Disaster Recovery
Partnership: Risk Assessments, Business Reviews, Technology Planning
Supporting small-to-medium sized businesses, as well as those in the health care sector, Silverado provides enterprise-level IT services, tailored to the client's need and budget.
Dean Cotlow of Cotlow Company represented the seller.
Jeff Casper of CBRE's Tucson Office represented the buyer.
Jeff Casper with CBRE told us, "The buyer exercised an option to purchase the property after occupying the space for one year in a five year lease and to control the space next door that sold with several years left remaining on that lease."
For more information, Casper should be reached at 520.323.5181 and Cotlow can be contacted at 520.881.8180.
To learn more, see RED Comp #6076.