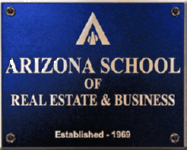 Columbus, OH – The Hondros Family of Companies has merged with the Arizona School of Real Estate and Business. The Hondros Family of Companies, consisting of the Hondros College of Business, Hondros Learning and National Background Check, announced this week that it will join forces with the Phoenix-based school to expand its footprint in the real estate education market in Arizona.
"This is an exciting opportunity for both schools to innovate and grow," says John G. Hondros, chairman of the board, Hondros College of Business, Columbus, Ohio. "Both are family-owned and share a commitment to quality education, so it's an excellent fit for the two organizations."
The two schools will maintain their present locations and continue doing business under their current names; however, they will share resources, expertise and technology for their combined 8 campuses in Ohio and Arizona.
Founded in 1969 by Bill Gray, the Arizona School of Real Estate and Business was launched to provide practical real estate knowledge for prospective agents preparing for the licensing exam and Continuing Education for the real estate industry.
"Bill is an icon in the industry," says Mr. Hondros, "he will remain as faculty and an important part of our team."
Don and Elaine Miner purchased the school in 2007, and since that time Don has been a member of the faculty with Elaine overseeing operations as the chief executive officer. After the merger, Don will continue on as faculty and Elaine will serve the school in an advisory status.
"The Arizona School of Real Estate and Business has built a strong reputation and relationship with the real estate community in the Phoenix area. That's why it was important for any potential partner company to share a similar culture and the single-minded focus on providing a great student experience," said Elaine Miner, chief executive office, Arizona School of Real Estate and Business.
"We look forward to combining resources and expanding the school to meet the needs of students across the state," adds Miner.
In addition to real estate education, Hondros College of Business offers programs nationwide in the fields of mortgage banking, appraisal, home inspection and insurance. Hondros Learning develops and markets highly-focused educational tools and online coursework for more than 200 resellers.
"The Arizona School of Real Estate and Business has a proven track record of providing quality education with highly-respected instructors," says Linda Hondros, president of Hondros College. "Our two schools share a common vision for educational excellence and personal student care. That's why we are extremely excited to add the Arizona School of Real Estate and Business to our family."