CIRCUS FURNITURE NOW OPEN AT STEAM PUMP VILLAGE
Circus Furniture opened this week in the former Studio C location at 11085 N Oracle Road at Steam Pump Village in Oro Valley. Diamond Ventures purchased the 19,700-square-foot building in April through affiliate Oracle Road Partners and was prepared to divide it into smaller office spaces for easier leasing, but Circus Furniture came along in June and needed the entire space for its third furniture store in town.
Business hours are Monday to Saturday: 10:00 am – 6:00 pm and Sunday: 11:00 am – 5:00 pm.
Doug Marsh and Robert Nolan of Oxford Realty Advisors, Inc. represented Oracle Partners LLC in the leasing. Shannon Murphy of DVI Realty Service in Tucson represented the investor in the purchase.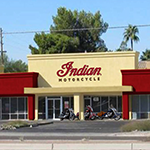 INDIAN MOTORCYCLES OPENS WITH 2015 LINEUP
Each bike in the 2015 Indian Motorcycle lineup was designed with a careful nod to the past, yet focused on the open road ahead. Take a look at the full lineup including the Chief® Classic, Chief® Vintage, Chieftain®, Roadmaster™ and the long awaited Indian® Scout™ at Indian Motorcycles location at 4037 N Oracle Road, northwest of Roger on Oracle, in Tucson. The repurposing of this former 7,680-square-foot multi-tenant building is quite a transformation on Oracle Road. The former home to Dunn Edwards that moved across the street to 3850 N. Oracle Road several years ago.
Business hours are Tuesday – Saturday: 9am – 6pm.  Sunday and Mondays they're closed - out riding!
John Hamner, CCIM and Gary Best, CCIM with KW Commercial in Tucson represented the landlord, Poz Ben Bon Investment Corp of Oro Valley that purchased the building for investment last October. Aaron LaPrise of Cushman & Wakefield | Picor represented the tenant in the lease transaction.
 HASTA LUEGO LA FUENTE!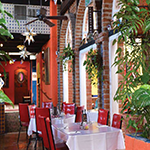 Longtime Tucson Mexican restaurant La Fuente at 1749 North Oracle Road has closed. The 10,317-square-foot restaurant, was popular for its Sunday mariachi brunch and as host to generations of special occasions from anniversaries to quinceaneras for 55 years.
The following message was posted on its website over the weekend:
"As many of you already know, La Fuente Mexican Restaurant closed its doors on August 29, 2014, after 55 years at the same location. The worsening economic environment, which began in 2008 and (for many) continues to this day, started a business slowdown that could not be reversed.
On behalf of our entire staff, I would like to take this opportunity to say thank you to all of you who helped to make the past years so memorable. It was our pleasure to meet you, to celebrate your special events, to provide Tucson's best Mariachi entertainment, to have you as our "regulars," and to welcome you over the years to dine with us. We do not anticipate re-opening at this location. Nevertheless, for those of you who have provided us with E-mail addresses, we will try to keep you posted, should other opportunities present themselves. We will not say good-bye, but simply "hasta luego."
We will miss you.
Sincerely, Yuliana Portillo, General Manager,
On behalf of the owners Carlos and Mary Jane Portillo
The La Fuente building is now listed with Juan Teran, CCIM of Chapman Lindsey Commercial Real Estate Services for a modest $799,000. Contact Juan at 520.747.4000 ext 104 to learn more.