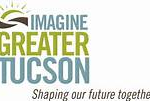 Excellent transportation is critical to the success of our region. People want transportation options that allow them to travel safely, efficiently and comfortably, and reach the destinations that are important to them. Equally, efficient transportation is essential for goods and services to flow and our economy to thrive
Imagine Greater Tucson with Pima Association of Governments (PAG) would like to get YOUR feedback for PAG's upcoming Regional Transportation Plan Update. This short, interactive survey is designed to help explore future transportation priorities. What things are most important to you? The purpose is to look at transportation possibilities and options regionally, not to address site-specific projects. The information collected will influence future regional transportation decisions and plans, specifically the upcoming Regional Transportation Plan Update that identifies future major transportation projects for our region.
The survey should take no more than 10 minutes and will be accessible through September 22.
Click here to access the survey or visit https://www.igtsurvey.org/.