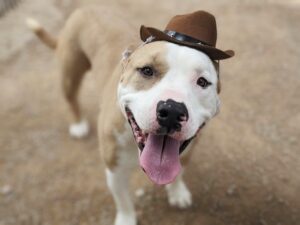 PIMA COUNTY, Feb. 24, 2023 – Come and lasso a new partner courtesy of Pima Animal Care Center's adoption roundup running through Feb. 26.
PACC is offering several Western-themed incentives for adopters during this Rodeo Week. In addition, adoption fees will be waived for all pets. A $20 licensing fee does apply to dogs 4 months and older. Anyone who adopts or fosters a dog between Feb. 22-26 will be entered to win one of 19 gift cards from local establishments Whiskey Roads, Putney's Pitstop Sports Bar and Grill, and The Maverick. In addition, anyone who comes in wearing Western-themed attire will receive a prize when they adopt a pet.
PACC currently has 498 dogs and 65 cats in the shelter and more than a thousand animals in foster. An average of 30-40 dogs come into the shelter daily, and PACC is anticipating increased intake of dogs over the next two weeks due to the Humane Society of Southern Arizona's two-week closure announced on Feb. 21.
Monica Dangler, Director of Animal Services, said that the shelter sorely needs adopters and fosters for animals, and especially large dogs, in their care.
"With students across Tucson on break this weekend, this is an ideal time to adopt a new pet and give them time to settle in," said Dangler. "We are hoping to find homes for many animals, especially dogs, during Home on the Range."
PACC is open from noon to 7 p.m. on weekdays and from 10 a.m. to 5 p.m. on weekends. All pets are up-to-date on vaccinations, microchipped, and will be spayed or neutered before being going home. To see all available pets and services, please go to www.pima.gov/animalcare.