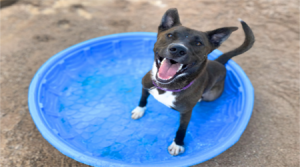 PIMA COUNTY, September 1, 2023 – Pima Animal Care Center is hosting a two-day pool party on Sept. 2 and 3 to show off their adoptable, dog-friendly dogs.
The event will run Saturday and Sunday from 10 a.m. to noon in PACC's front play yards. The shelter invites the public to see the dogs play in a playgroup setting, featuring many pools, to bring more attention to the many highly adoptable dogs currently residing there.
"We have so many awesome dogs who would fit well into a wide variety of homes," said Monica Dangler, PACC's Director of Animal Services. "It can be hard to understand a dog's personality behind kennel doors, so we're hopeful that seeing these great dogs playing with each other and having a pool party will show the public just how wonderful they are."
In addition, anyone who adopts a dog from the shelter will receive a kiddie pool to help them keep the fun going at home.
PACC currently has 464 dogs at the shelter and more than 800 in foster care. After unusually high numbers of dogs coming into the shelter over the past weeks, PACC is at critical capacity and urgently need fosters and adopters for dogs of all sizes, breeds, and ages.
Those interested in fostering or adopting a pet may come to PACC's 4000 N. Silverbell Road facility during operating hours. PACC is open on Saturday and Sunday from 10 a.m. to 5 p.m. All adopted pets come up to date on vaccinations, a microchip, and a spay or neuter surgery.
To see available pets and services, visit pima.gov/animalcare.