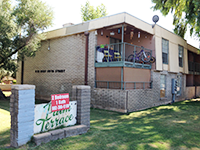 Tempe, AZ -ORION Investment Real Estate is pleased to announce that Palm Terrace Apartments and affiliate of Vestis Group (Principals Natan Jacobs and Les Litwin) have completed the sale of Palm Terrace Apartments, a 44-unit multifamily community located at 1133 West 5th Street, just west of the Farmer Arts District in Downtown Tempe, Arizona for $3,050,000 ($69,318 per unit).
Joseph Dietz of Orion Investment Real Estate in Scottsdale, Arizona represented the buyer and the seller in the transaction.
"This was a great acquisition for our group," says Les Litwin, Principal at Vestis Group and a partner in the buying entity, "The property is well located just west of the trendy Farmer Arts District in Downtown Tempe, on the campus shuttle line, near Mill Avenue, the Valley Metro Light Rail, restaurants, bars and entertainment. We intend to put out a high-end rental product, in-line with our other MODE Apartments communities, using contemporary styling and adding modern amenities to compliment the neighborhood."
Palm Terrace Apartments, is a 44-unit, garden-style, two-story, apartment community located in a strong rental area of north Tempe, just west of Mill Avenue, Arizona State University and the Farmer Arts District in Downtown Tempe. The property was built in 1973 of concrete block construction and is individually metered for electricity. The garden-style community has a swimming pool, covered parking and outdoor barbecue area. The units are extremely spacious two-bedroom/one-bath at 916 square-feet, and have private balconies/patios, refrigerators, dishwashers and disposals. The total site area is 2.08 acres.
A major renovation is planned for Spring 2015. Planned exterior improvements include; refinishing of the second floor exterior with new stucco and trim with metal accents, including a screen wall for the rooftop HVAC. New windows throughout the property, extensive HVAC replacement. Repair and replace the exterior stairway and terrace railings. Upgrades to landscaping and common areas, remodeling the existing laundry and maintenance room to become a poolside gym room and adjacent leasing office. Repair and re-coat the parking lot, upgrade pool area. Planned interior renovations will include an additional bath, washer/dryers in each unit, new cabinetry throughout, new appliances, a kitchen bar/counter that opens to the dining area, new flooring, electrical fixtures and fans.
Palm Terrace Apartments is located in north Tempe, along 5th Street and Beck Avenue, just west of Hardy Drive, in close proximity to Arizona State University, Mill Avenue, Farmer Arts District, Tempe Town Lake, Orbit Shuttle and the Valley Metro Light Rail. The property is located in a quiet residential neighborhood just west of Downtown Tempe, within close proximity to the Loop 202 Freeway, allowing easy access to Sky Harbor International Airport, Downtown Phoenix, Scottsdale, the valley freeway system and numerous employers. The property is individually metered for electricity and master metered for water. The property owner is responsible for the cost of water, sewer, and trash pickup, and the residents are responsible for the cost of electricity in their units, including the cost of heating and air conditioning.
The buyer is a private investment group from Phoenix specializing in acquiring, remodeling and operating multifamily investment real estate. The buyer plans to spend approximately $1,600,000 ($36,364 per unit) to renovate and improve the project.
The seller was Palm Terrace Tempe, LLC of Phoenix, Arizona.
To learn more Dietz should be contacted at 480.689.4107 or email joseph.dietz@orionprop.com