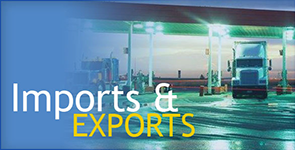 New York - Following a strong economic pick-up in fourth quarter 2013, values for both imports and exports fell during first quarter 2014, compared to the previous quarter. According to a new report from supply chain research firm Panjiva, imports dropped 5.42% and exports 3.84% from fourth quarter 2013, though activity in March fared better than in January and February.
Some of the report highlights include:
Despite labor safety concerns, Panjiva's data suggests Bangladesh is as an important source as ever; the value of U.S. imports is up 1%, compared to fourth quarter 2013 and the volume (number and weight) of shipments into the U.S. is also on the rise.
Despite political tensions and economic sanctions imposed on Russia, imports from Russia actually increased 9% from fourth quarter 2013, while exports still dropped during the same time period by 5%; Vietnam also saw instability in the last few months due to tensions with China, but shipments remained slightly up in first quarter from the previous quarter at 3%.
Saudi Arabia was a trading partner that stood out significantly in first quarter. While total trade actually declined this quarter, Saudi Arabia is actually the U.S.'s largest international buyer for dairy products and had a 142% increase in shipments since fourth quarter 2013.