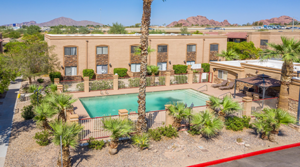 PHOENIX, ARIZONA – Marcus & Millichap (NYSE: MMI), a leading commercial real estate brokerage firm specializing in investment sales, financing, research and advisory services, announced today the sale of Papago Buttes III, a 52-unit apartment property located in Phoenix, Arizona. According to Ryan Sarbinoff, regional manager of the firm's Phoenix office, the asset sold for $9.5 million ($182,692 per unit).
"After marketing the property for only 45 days, we received 12 competing offers for this asset and ultimately, through an aggressive campaign of broker cooperation, procured a first-time Phoenix real estate investor coming out of a 1031 exchange in Orange County, California," said Pete Te Kampe, vice president investments in Marcus & Millichap's Phoenix office. "The seller was looking to capitalize on the intense demand for desirable multifamily Class B assets in the Phoenix metro area and retire from the business." Te Kampe had the exclusive listing to market the property on behalf of the seller, a limited liability company.
The buyers were represented by Joseph Berkson, senior vice president investments in Marcus & Millichap's Newport Beach office. Their purchase was part of a multi-state, $54 million 1031 exchange out of a southern California mobile home park. According to Berkson, "Marcus & Millichap's national platform - and especially the high level of cooperation from a seasoned, knowledgeable, professional agent like Pete Te Kampe - proved to be absolutely essential to enabling him to facilitate his clients' investment objectives." Acquisition financing for Papago Buttes III was facilitated by Rick Judge, senior vice president capital markets with Marcus & Millichap Capital Corporation's Newport Beach office.
Papago Buttes III is located at 402 North 52nd Street in Phoenix, Arizona. Built in 1987, this 32,104-square-foot apartment property consists of 12 large one-bedroom/one-bathroom units, 24 standard one-bedroom/one-bathroom units, and 16 standard two-bedroom/one-bathroom units. This garden-style community is individually metered for electricity and features a center courtyard with a swimming pool, an on-site laundry facility and covered parking.