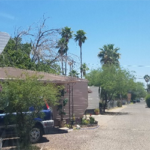 TUCSON, Arizona — Park Brokerage Inc. has announced the sale of Adobe Manor Mobile Home Park located at 3339 E Grant Rd. in Tucson, Arizona was completed on March 24, 2017 for the price of $715,000 ($14,300 per unit).
John Sheedy with Park Brokerage Inc. arranged the distressed sale on behalf of the seller while procuring the buyer, 3339 East Grant, LLC.
Adobe Manor is an all-ages mobile home park with 52 MH/RV spaces and 5 apartments.  The park however has several smaller older RV sites so with modern mobiles the park has around 45 sites and 5 apartments.  The roads are paved, all utilities are metered and passed through, and there is a small laundry room for additional revenue.  The park was 50% occupied and in poor condition at the time of sale with collection issues .  The experienced buyer re-wrote the loan with the assistance of the current lender at a nearly 100% loan to value and the seller carried a second conditional loan based on a future eminent domain when Grant Road will be widened.
John Sheedy commented, "Adobe Manor has been very poorly managed yet is in a great location on Tucson's most traveled road near countless commercial developments.  The vacancy rate in the sub-market is around 10% so the experienced buyer should be able to fill spaces quickly."
For more information, Sheedy can be reached at 602.821.4666.
To learn more, see RED Comp #4660.