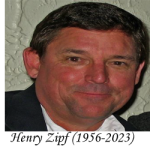 It is with deep sadness that we announce the passing of Henry Zipf, a two-time MLSSAZ Past President and Lifetime Designated REALTOR®. Henry was a familiar face around the Association and everyone enjoyed it when he was around.
Henry served as MLSSAZ Past President in 2015 and 2017, and his leadership and dedication will be missed.
Henry, a fifth-generation Tucsonan born to Henry George Zipf and Ann Lourie Zipf, passed away on May 7, 2023, surrounded by his family and friends. Born on June 15, 1956, he was a direct descendant of pioneer George Pusch, after whom Pusch Ridge is named. Henry is survived by his sons, Nolan and Stephen, whom he was very proud of, and his long-time partner, Debra.
Henry spent his entire life in Tucson, graduating from Oro Valley High School and the University of Arizona. He was profoundly marked by the death of his mother, Ann, when he was just 14, and had a close bond with his sister, Lourie. The family spent summers in La Jolla, and Henry was an active youth member of the Tucson Boys Choir and enjoyed the local tennis club and beach.
His family owned the Pusch Land and Cattle Company and contributed significantly to the early development of the Tucson region, a heritage Henry was deeply proud of. Professionally, he had several successful careers, including being a firefighter, real estate broker, bankruptcy trustee, general contractor, and homebuilder. He served twice as the President of the Tucson Association of Realtors' Multiple Listing Association and was a lifetime designated Realtor.
Henry's giving heart was evident in his volunteerism. He was instrumental in the construction of Corpus Christi Catholic Church and served as its Head Usher for many years. His dedication to his community was also seen in his role as President of the Oro Valley Historical Society, where he worked to preserve his family's legacy.
An active outdoorsman, Henry loved fishing, bow hunting, skiing, and dirt biking. He built the family's A-frame cabin in Alpine, Arizona, where he enjoyed time with his family and his beloved yellow lab, Tucker. He also loved playing the acoustic guitar, was a dedicated fan of UA Wildcats Basketball, and a passionate cook.
Known for his kindness, generosity, and compassion, Henry was always available to support those he loved. His passing will be deeply felt by all those who had the pleasure of knowing him.
We extend our heartfelt condolences to Henry's family and loved ones during this difficult time. We will always remember Henry's impact at MLSSAZ and the real estate industry.
Services will be held at Corpus Christi Catholic Church on Saturday, June 3rd.
Mass at 10:00 – 11:00 AM
Celebration of Life immediately following 11:--1:00 at the church hall.
Corpus Christi Church ( Broadway / Tanque Verde Loop)
Memorial donations can be made in Henry's memory to: Oro Valley Historical Society, P.O. Box 69754 Oro Valley, AZ 85737-0021