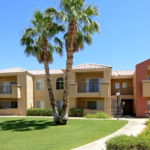 PHOENIX (March 12, 2015) – The P.B. Bell Companies, a multifamily real estate development and management company, has acquired The Boulevard, a 294-unit apartment community in north Phoenix. Phoenix-based, Legacy Capital Advisors, LLC, Jim Pierson and Keaton Merrell, arranged a $26.8 million, non-recourse acquisition loan with Freddie Mac to close the sale.
"We are very excited to get this financing in place," Pierson said. "It is a great loan for P.B. Bell and the excellent loan terms will help the buyer effectuate their business plan at The Boulevard."
P.B. Bell purchased the luxury apartment community, located near Bell Road and 7th Street, from Franktown, Colorado-based Slavin Residential for $33.5 million. CBRE Phoenix agents Sean Cunningham and Tyler Anderson brokered the transaction.
P.B. Bell plans to invest about $2 million in improvements to the property, which was built in 1994, updating both interior living areas and exterior common areas.  The clubhouse, pool area, leasing office and outdoor common areas will all see enhancements, as will cabinets, lighting, flooring and countertops for the individual apartment homes.
"The Boulevard represents an exciting opportunity for P.B. Bell to acquire a quality property in a great location," R. Chapin Bell, P.B. Bell president, said. "With our approach, we're confident we can optimize operational performance for our partners and our team."
Phil Lake, P.B. Bell director of acquisitions, was responsible for spearheading the overall acquisition of the property, which features seven spacious floor plans and is located in a residential area that is near shopping, restaurants and quality schools.
"We were attracted to The Boulevard, in part, because we knew we could positively impact the physical attributes of the property by way of upgrades and improvements," Lake said. "By updating the property, we're also investing in the greater community."
Legacy Capital Advisors specializes in providing comprehensive capital advisory services to the commercial real estate industry including debt, equity, structured finance and loan modification services. Legacy Capital has over 40 years of combined experience in commercial mortgage banking and commercial mortgage brokerage, having closed over $2 billion in loans in 17 different states.