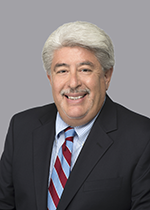 PHOENIX, Arizona – Peter Madrid has been named co-winner in the Mentor of the Year category for the Phoenix Business Journal's Landmark Leaders Award. The other co-winner is Barry Gabel of CBRE. The recognition salutes commercial real estate and related professionals in Phoenix. Winners in the 12 categories will be featured in the Nov. 17 issue of the PBJ.
Madrid is owner of MadridMedia. He provides writing, editing, media placement, and media relations services. He spent three years as Communications Specialist for the Phoenix office of Cushman & Wakefield. He was responsible for internal communications, social media platforms, and oversaw the firm's philanthropic and community engagement. Prior to that he was editor of Arizona Commercial Real Estate (AZRE) magazine. Peter was responsible for producing six bi-monthly magazines that covered the commercial real estate industry in Arizona.
"Mentoring has long been a priority for me," Madrid said. "I serve as an adjunct professor at the Cronkite School of Journalism and Mass Communications at ASU. I also serve as a mentor to up-and-coming professionals in the Valley commercial real estate community. Whether it's helping someone with their resume, their writing, or offering advice, I am always eager to lend a hand."
Madrid is also active among numerous industry groups including NAIOP Arizona, Valley Partnership, Urban Land Institute, BOMA Greater Phoenix, and CoreNet Global Arizona. He is a member of the NAIOP Arizona Communications Committee and is Co-Chair of the Valley Partnership Communications Committee. Peter supports Ryan House and volunteers with the Florence Crittenton of Arizona annual Heels for Healing event, a Leukemia Society of America charity golf tournament, and the Valley Partnership Community Project.
"It's an honor to be nominated by my peers for this award." Madrid said.