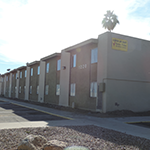 PHOENIX, AZ – Cushman & Wakefield of Arizona, Inc. completed the $2,825,000 ($38,176 per unit) sale of the Charter Palms Apartments, 1220 N. 44th Street in Phoenix.
The complex was constructed in 1974 and contains 74 apartment units totaling 60,400 square feet ($46.77 PSF). The property, which includes five buildings, is 69 percent occupied.
Plaza de Vista, LLC of Tempe purchased the property from Realty Partners Charter, LLC of Phoenix.
"The property has quite a bit of deferred maintenance that the buyer plans to take care of while also improving the quality of the asset," said Brett Polachek, Senior Director with Cushman & Wakefield.
Polachek and Jim Crews of Cushman & Wakefield successfully marketed the property for sale and represented the seller. The buyer was represented by Brock Danielson of KW Commercial of Mesa.
To learn more Polachek can be reached at 602.229.5989 and Crews is at 602.229.5992. Danielson should be called at 480.854.2400.