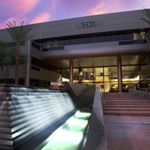 Brings landmark Camelback Corridor project to 96 percent leased
PHOENIX, AZ– Phoenix Children's Hospital has committed to a 27,265-square-foot office lease at Biltmore Commerce Center, a Class A Camelback Corridor office building that was purchased just months ago by office investment and management expert Lincoln Property Company (LPC) and a fund managed by Oaktree Capital Management, L.P. (Oaktree). The company will move into Biltmore Commerce Center next month, bringing the project to 96 percent occupied.
The is the first lease new deal signed by the building ownership, which purchased Biltmore Commerce Center as part of more than $165 million in Phoenix-area investment activity in the early months of 2015.
"PCH was looking for a location close to its main hospital that could provide office-specific space for its growing administrative and executive functions. With its location and efficiencies, Biltmore Commerce Center fit that bill precisely," said Lincoln Property Company's Vice President Amr Ceran."We are very pleased to welcome PCH to our tenant mix, and look forward to putting this project's full advantages to work for them."
Under the lease, Phoenix Children's Hospital will ultimately occupy 27,265 square feet of space – a full wing on the project's second floor. They will use the space for executive offices and for administrative functions including human resources and accounting.
Scott Maxwell of CRESA represented Phoenix Children's Hospital in the lease negotiations. Lee & Associates' Bill Blake, Craig Coppola, Andrew Cheney and Colton Trauter represented the landlord.
LPC has also completed a number of lease renewals at the project since its purchase, including Extreme Consulting and Strategy Wealth Management.
Located at 3200 E. Camelback Rd., on the northeast corner of Camelback Road and 32 Street in Phoenix's prominent Camelback Corridor, Biltmore Commerce Center is known for its Alucobond® metal panel exterior and highly visible, street-facing water feature. The project totals three stories and 259,000 square feet, with efficient floorplates and an 11,000-square-foot, newly remodeled three-story atrium running through the interior first floor. It also includes ground-level parking and subterranean parking that provides quick and direct access to all tenant floors via two separate elevator banks.
Additional project renovations and features include remodeled corridors and lobbies, upgraded landscaping and the new street-facing water feature. The property has earned an average 94-point Energy Star rating over the past six years. In 2012, it was named The Outstanding Building of the Year (TOBY) by the Building Owners and Managers Association (BOMA).
The project sits across the street from two retail projects, with numerous dining, shopping and business services options.
"This is a true landmark Phoenix property, with the full support of LPC's more than 50 years of asset and project management expertise behind it," said LPC Director of Management Services Alisa Timm, who directs the project's property management strategy. "Amenities like the central atrium and high-tech touches give it the power to remain at the top of the market."
With the Phoenix Children's Hospital lease, Biltmore Commerce Center is now almost 96 percent leased to a broad group of tenants including HDR Engineering, Coamerica, Lee & Associates, United Way, Greystar, North American Title Company, DeRito Partners and Miller Russell & Associates.
LPC is now under construction on a first-floor, 4,600 speculative office suite at the project, with estimated completion in late July. This, along with one additional 6,241-square-foot suite on the third floor, makes up the last available space at Biltmore Commerce Center. For additional leasing information or to discuss investment opportunities, please contact David Krumwiede or Amr Ceran at (602) 912-8888.