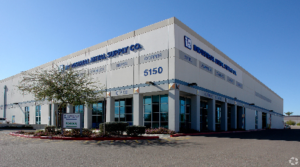 PHOENIX, AZ – Lee & Associates Arizona represented both the buyer and the seller of a fully-leased industrial property located at 5150 S. 48th Street in Phoenix, Arizona, valued at $11,550,000 ($139.59 PSF).
The building was constructed as a build to suit for Industrial Metal Supply Company, a regional steel and aluminum warehouse company. This is their only warehouse in the Phoenix Metropolitan area and services the entire state of Arizona.
Lee Principal Scott Smith represented the seller of the property, The Robert Wells Family Trust of Newport Beach, CA.
Lee Principals Allen Lowe and Jeff Conrad represented Larry Twomey, Peter Ezell and David Balfour of Investment Property Exchange Services of Marina del Ray, California. The transaction closed January, 2020.
For more information contact Lowe at 602.954.3747;  Conrad can be reached at 602.954.3743 and Smith is at 602.954.3768.