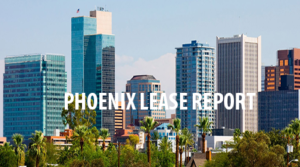 The following commercial leases were reported to the Real Estate Daily News for the Phoenix Lease Report from October 17 thru 21, 2016
RETAIL – 1715 W RUBY DRIVE, STE 103, TEMPE
A lease for 6,626-square-feet at Emerald Design Center to Haven Furniture and Design was recently consummated. The location of the property is 1715 W Ruby Drive, Suite 103 in Tempe, AZ. Jim Edwards of Rein & Grossoehme Commercial Real Estate represented the tenant. Rick Robertson of Lee and Associates represented the landlord.
RETAIL – 2161 E. UNIVERSITY DR., PHOENIX
A Retail Lease for 4,018-square-feet within University 101 Shops at 2161 E. University Dr. in Tempe, AZ to Hurts Donut Shop was recently consummated. The owner of the center is 2155 E University, LLC.  Jared Lively of Rein & Grossoehme represented both the Tenant and the Landlord on this transaction.
Submit sale and lease to REDailyNews@outlook.com