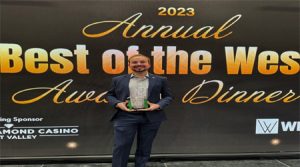 GOODYEAR, ARIZ. (Nov. 21, 2023) – Phoenix West Commercial Vice President | Principal ELi Mastracci, CCIM, was one of four finalists for Emerging Leader of the Year at WESTMARC's Best of the West awards gala recently at Desert Diamond Arena in Glendale.
WESTMARC's Best of the West Awards has been the signature event of the West Valley for more than 30 years. The event is designed to celebrate the best of Western Maricopa County and recognize outstanding contributions to the quality of life, education, workforce development, economic development, and innovation in the West Valley.
"Growing up in Litchfield Park and Waddell, the West Valley has always been my home, and I have such a privilege – through what I do – to help shape and grow this amazing community," Mastracci said. "I'm honored to be recognized along with three of my peers as a finalist for Emerging Leader of the Year."
Mastracci specializes in corporate office leasing, acquisition, and disposition. He is on the Central Arizona CCIM chapter Board of Directors. Mastracci has completed lease and sale transactions in Arizona with clients both in-state as well as from New York, California, Oregon, and Texas. Internationally, he has completed transactions with and represented clients from Canada, Mexico, and India. Mastracci has completed more than $24 million in leasing transactions and more than $4 million in sales transactions.
Young talent attraction and retention have been an ongoing dialogue for the past several years. As the West Valley continues to grow, WESTMARC is keenly aware of the importance of illustrating the diverse, skilled, and talented workforce that it has for the purpose of business attraction and economic development. WESTMARC actively works to identify ways to engage young professionals in regional strategy, planning, and problem-solving, providing a platform for engagement, and strengthening community involvement.
In 2019, WESTMARC partnered with the Center for the Future of Arizona, to engage in the Young Talent "listening tour" to be sure that West Valley voices were included in the process of gathering insight into their values, goals and priorities. The insights gained from these statewide dialogues created the foundation of the Center for the Future of Arizona.
The Emerging Leaders program provides a regional mechanism to identify and spotlight emerging leaders that are impacting one or more of the key areas included in the West Valley Quality of Life Wheel including arts and culture, civic engagement, economic opportunity, education, environment, healthcare, health and fitness, public safety, quality housing, sports and entertainment, and transportation.