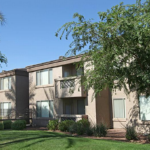 MIC IP II, a company formed by Mercury Investments Co. of Duluth, MN (Abbot Apter, principal) sold the Indigo Palms apartment at 3777 E. McDowell Road in Phoenix for $40 million ($92,593 per unit). A company formed by Bill Comrie, Incom Apartments, LLC of Newport Coast, CA purchased the 432-unit Indigo Palms apartment complex.
Indigo Palms Apartment Homes, is a gated community of apartment homes built in 2002.  It's just a few blocks walk to some of the best restaurants and night life in town. Units include spacious soaking tubs, a whirlpool spa, and a Caribbean Style pool and workout gym. Near Papago Park for hiking, upscale shopping in Scottsdale, events at the ASU Campus, sporting venues, and the light rail in downtown Phoenix.
Incom Apartments LLC acquired Indigo Palms with a $28 million loan from German American Capital Corp.,  a subsidiary of Deutsche Bank in New York City.
The purchase of Indigo Palms is believed to be the first multi-family investment in the Valley for Comrie, who founded and later sold The Brick Warehouse Corp. furniture chain based in Edmonton, Alberta, Canada.  Comrie has a wide array of business and real estate interests in Canada and the western United States.
In July 2009, the seller paid $30 million ($69,444 per unit) to buy Indigo Palms.  Allison-Shelton Real Estate Services of Phoenix has managed the property and is expected to continue.
The sale was brokered through Howard Berger of Berger Investment Group Inc. in Phoenix.
JP Geisbauer is the contact for Comrie, and can be reached at (949) 270-2911. Contact Apter at (218) 720-3807. Talk to Berger at (602) 667-3638.