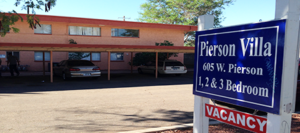 Phoenix, AZ – Vestis Group is pleased to announce that Brokers Natan Jacobs, Les Litwin and Chad Barber have completed the sale of Pierson Villa Apartments, a 12-unit multifamily community located at 605 West Pierson Street, in the trendy Pierson Place neighborhood in Midtown Phoenix, Arizona for $568,000 ($47,333 per unit).
"The buyer is really excited to get moving on the redevelopment of this project," says Chad Barber, Investment Advisor at Vestis Group and the lead broker for this transaction, "This is their second acquisition in the Melrose area of Midtown Phoenix and their eleventh acquisition in the last year and a half, under their MODE Apartments platform."
Pierson Apartments, aka Pierson Villa Apartments, is a garden-style, two-story, multifamily community located in the trendy Pierson Place Historic District in Midtown Phoenix, just south of Camelback Road, west of Central Avenue, east of 7th Avenue (Melrose On 7th), near Park Central Mall, Phoenix College, St. Joseph's Hospital and Medical Center, Carl T. Hayden VA Medical Center, and boutiques and popular eateries such as QCumberz, Retro Ranch, Paris Envy, Flo's On 7th, Figs Home & Garden, Halo Animal Rescue Thrift Boutique, Melrose Vintage, Copper Star Coffee, Gadzooks, and Taco Guild. Built in 1958, Pierson Apartments has a flat foam roof and concrete-block construction, two-level buildings. The unit mix is comprised of four (4) one-bedroom / one-bath units, four (4) two-bedroom / one-bath units and four (4) three-bedroom / two-bath units, with a total average unit size of 867 square feet. Common area amenities include laundry facilities, exterior storage, covered parking and mature landscaping. The property owner is responsible for the cost of water, sewer, and trash pickup, and the residents are responsible for the cost of electricity in their units, including the cost of heating and air conditioning.
The buyer, 605 W Pierson LLLP, is a privately owned real estate firm specializing in acquiring, remodeling and holding multifamily residential investment real estate. The buyer plans to spend over $370,000 ($30,000 per unit) to rehabilitate and improve the project.
The seller was Pierson Villas, LLC of Scottsdale, Arizona.
The Phoenix based Vestis Group multifamily brokerage team of Natan Jacobs, Les Litwin and Chad Barber represented the buyer in the transaction. The seller did not utilize third party representation.