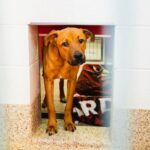 PIMA COUNTY, Jan. 18, 2023 – Due to multiple positive cases of Streptococcus equi zooepidemicus or "Strep zoo" at Pima Animal Care Center, the shelter will be closed to the public through the end of the day Friday, Jan. 20.
Adoptions and foster services will not be available for dogs currently on PACC's campus during the closure. However, PACC does have several dogs who have not been exposed who need placement. PACC always asks that pets that are new to the home are kept separate from existing pets for 14 days. These dogs have not been evaluated but appear to be healthy and friendly. If you are able to foster one of these dogs, please apply here.
The first positive test was identified Jan. 12. Several additional dogs at the shelter have since tested positive for strep zoo or are showing symptoms of the infection. The closure comes at the advice of PACC's Director of Veterinary Services, Dr. Jennifer Wilcox. All dogs in the shelter have received the recommended antibiotic treatment.
The shelter will accept animals for intake in emergency situations only. Emergency intake includes only:
Pets in medical distress
Pets who pose a public safety risk
Any situation involving an injury to a human or animal
Anyone who finds a stray that is injured, ill, or posing a public safety risk, please contact the Animal Protection Services dispatch line at (520) 724-5900 and press 4.
If a member of the public finds a healthy stray animal, it is imperative that they attempt to find the owner following the steps on PACC's website. Keeping pets with their families is the best way to ensure that animals stay healthy. Bringing a pet to PACC at this time may place that pet at risk. Additionally, PACC's Pet Support Center will be available via phone at (520) 724-7222 to assist those needing to find the homes of lost pets or needing resources for their own pets.
Anyone who has adopted or fostered a dog from PACC since Jan. 5 should evaluate the animal(s) carefully, and if the animals are experiencing symptoms of respiratory illness, including coughing, discharge from the nose, and depression, come to PACC's clinic to get medication for them. The PACC clinic is open between noon and 6 p.m. on weekdays and 10 a.m. and 5 p.m. on weekends.