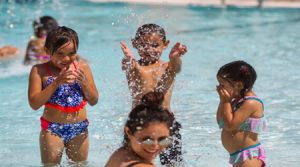 PIMA COUNTY, (May 25, 2023) – Pima County's pools will open for the summer on Saturday, May 27.
Pima County Natural Resources, Parks and Recreation manages nine public pools through its aquatics program, along with two splash pads. The department also offers swimming classes, water exercise, and recreational and competitive swimming for all ages.
Admission to all pools is $1 for children 17 and under and $3 for adults 18 and up. A 24-entry swim pass is available at all pools; the pass is $60 for adults and $20 for children.
The cost of admission and passes is halved for children and adults who meet the low income standard, adults with disabilities, and adults 65 years of age and older. All fees are cash only.
Every pool and splash pad has its own schedule, which can be found at https://www.pima.gov/1237/Pools-Splash-Pads.
All pools will be open Memorial Day, May 29, from 1-5 p.m.