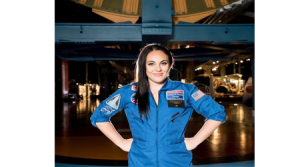 PHOENIX, ARIZ. (March 31, 2023) — Infrastructure, site selection, and clean energy, building an entrepreneurial ecosystem, and practical housing solutions are just a few of the topics that will be covered as the Arizona Association for Economic Development (AAED) announces the schedule for its annual spring gathering.
The AAED Spring Conference, "Sun, Sand & Success," is scheduled for April 26-28 at Loews Ventana Canyon Resort & Spa in Tucson.
The three-day conference kicks off on April 26 with the annual golf tournament in the afternoon at the Ventana Canyon Club & Lodge and an opening reception.
Kiah Erlich, Head of Astronaut Sales and Corporate Partnerships for Blue Origin, opens the first full day of the conference with a keynote address, "Sun, Sand, and Arizona's Space Economy." Erlich will explain how Blue Origin affects tourism in the space industry and how it can benefit Arizona's economy.
Erlich has since spent most of her career in the aerospace industry has led multiple $300 million-plus avionics and software businesses for Honeywell Aerospace, including several acquisitions. Three years ago, she was offered a once-in-lifetime opportunity to pivot her career and join the space industry as the Director of NASA sales for orbital launch.
Morning panel discussions include implementing job quality and building the future, infrastructure, and economic development. Scheduled to give the keynote lunch address is Sandra Watson, President and CEO of the Arizona Commerce Authority.
Afternoon sessions include a look at emerging research tools and technologies as they relate to the future of economic development; practical housing solutions for economic developers; and building an entrepreneurial ecosystem.
Each year AAED honors significant contributions to the advancement of the organization and economic development within the state. The Economic Development Distinguished by Excellence (EDDE) Awards banquet will serve as the evening's highlight. Established by AAED members to recognize the outstanding work of their peers, the event is sponsored by the Greater Phoenix Economic Council (GPEC).
The final day of the conference wraps up with a discussion on site selection and clean energy economic development, and the annual membership meeting.
Registration fee is $595 for AAED members; $695 for non-members. Register here.
The conference Title Sponsor is the City of Goodyear. The Diamond Sponsor is the Yavapai College Regional Economic Development Center.  Platinum Sponsors are the Town of Queen Creek, Terracon, the City of Peoria, Tech Parks Arizona, and Upfront Planning & Entitlements, Inc.