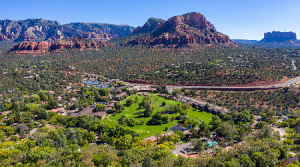 Buyer Plans Extensive Renovation and Transformation to Luxury Destination Property
Phoenix, Arizona – The Poco Diablo Resort in Sedona has been purchased by Bentley Legacy Holdings, LLC for an undisclosed price. The Plano, TX based owner plans to renovate the property to improve the guest experience, and has engaged Aimbridge Hospitality as the manager.
"Our team was able to show investors the upside potential with operational efficiencies and property renovations. This allowed us to maximize the price, even during the COVID-19 pandemic and the current credit crunch on hospitality debt," says Jon Grantham, vice president with Colliers International in Arizona.
Sedona as a hospitality market poses a very high barrier for entry. The buyer plans to rebrand Poco Diablo and provide a product that will compete against the other upper scale hotels in the area.
Grantham, James Meng, Mike Montoya, Ryan Wall and Phil Breidenbach represented the Fort McDowell-Yavapai Nation in the sale of the resort property. Bentley Legacy was self-represented.
Poco Diablo Resort is located at 1752 AZ Highway 179 in Sedona. Constructed in 1977 and remodeled in 1995, the property features 137 guest rooms on 18 acres, as well as a nine-hole golf course.
Aimbridge Hospitality is a global leader in third-party hotel management services. The company is the largest operator of Marriott, Hilton and Hyatt branded hotels in the world. The Aimbridge management portfolio include more than 1,400 branded and independent properties in 49 states, the Caribbean and 20 countries.